Cleveland Mobile Shredding
Did you know that a single file box of documents can weigh up to 30 pounds? With several more boxes, you easily have almost 100 pounds of paper to carry around! Most Cleveland businesses have rooms full of files that need to be destroyed, which means your shredding project could easily involve upwards of 1,000 pounds of documents.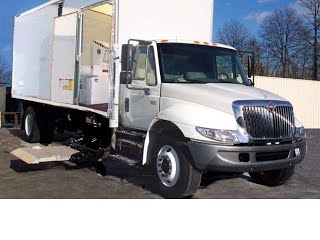 You might find yourself with more paper to shred than you can manage. Fortunately, Cleveland Document Shredding is well aware of the difficulties you might face in transporting your documents to a shredding facility, which is why we partner with contractors that offer our clients a mobile shredding service. "Mobile" simply means that a truck equipped with a securely contained shredder is sent directly to your location so that you don't have to worry about the hassle of dragging your documents all over town.
Additionally for some, witnessing your documents being shredded is of top concern. Some Ohio businesses are even required by law to certify that at least one employee observed to proper destruction of sensitive documents. Mobile shredding is the only service of its kind where the option to witness document destruction is available, allowing you to ensure peace of mind.
If you are in need of ongoing shredding, you are conveniently given free locked bins to your location for you to store your documents meant for destruction. When it comes time for your regular shredding service, a driver stops by to shred whatever is in the bins for you.
How the Mobile Shredding Process Works in Ohio:
Gather all items you'd like to shred in one place (or in your secure locked bin, if applicable).
The shredding operator will then shred all of your materials in a sealed shredding compartment on the truck. You may witness the entire process.
Once the job is complete, the shredding operator will provide you with a Certificate of Destruction.
Your shredded materials will then be transported a secure recycling facility where they will be recycled into new paper.
Shredding trucks are capable of destroying up to 6,000 pounds of documents an hour, so if you think you have more than 6,000 pounds of documents, then off site shredding might be the best solution for the job. The trucks can shred documents with staples, paperclips, spiral notebooks, folders, and much more. Check with us if you have any questions about what our trucks can shred by calling (330) 441-4260.
Get FREE Quotes for Mobile Shredding Services in Cleveland, OH!
If you have more documents than you can carry or want to witness your documents being destroyed, then on-site shredding is the right solution for you. On-site shredding trucks provide service to homes and businesses in Cleveland and the surrounding Ohio area.
We value your security and the security of your business. Let Cleveland Document Shredding help protect you today.
Fill out the form to the left, or call us at (330) 441-4260 to get started. We look forward to working with you!