Cleveland Document Shredding
Cleveland Document Shredding is committed to providing cost-effective shredding solutions for Ohio homes and businesses. We value your information security and offer several flexible and federally compliant services to suit your needs. Shredding can be done at your Cleveland location while you watch.
About Cleveland Document Shredding
Cleveland Document Shredding connects you to several shredding services to go beyond your security requirements and always at reasonable rates.

Cleveland Document Shredding connects premium shredding services near you to homes and businesses in Cleveland and the great Ohio area. We're here to help keep you secure with affordable services, no matter the size of the job.
Whether you're looking to ensure your business is compliant with federal and state laws or simply wanting to protect your and your family's personal information, shredding documents containing sensitive information makes sense. Cleveland Document Shredding makes protecting easy and affordable, so you can have peace of mind.
Who Is Held Accountable for Improper PII Disposal? The improper disposal of an individual's Private Identifiable Information (PII) can cause severe harm for the victim, but who is held accountable for causing the harm? Learn more about a business' responsibilities and how Cleveland Document Shredding can help keep you and your employees safe.
Learn more about protecting yourself or your business against the hazards of improper document disposal by giving us a call at (330) 441-4260 or requesting a free quote today.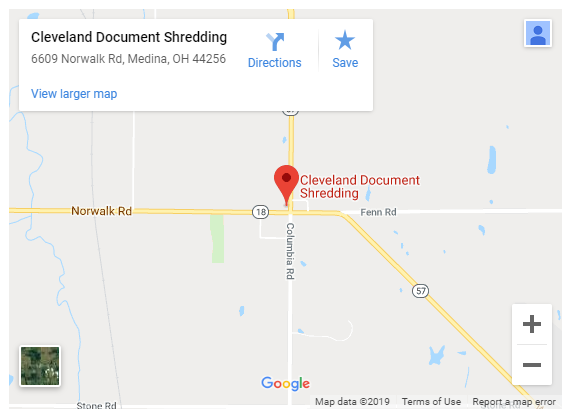 Get Free Quotes on Shredding in Cleveland
Cleveland Shredding Services
Service Options Available in Cleveland
Whether you're looking for a one-time service or a regularly scheduled service, our network is prepared to meet your needs. You may set up the following schedules:
One-time Purge Service: This service is great for those who only have one or occasional shredding requirements. Costs are generally based off of the volume of documents you need shredded.
Ongoing Service: This service works well for those who have weekly, monthly, or quarterly shredding requirements. You are given locked shredding bins free of charge and a driver regularly visits your location to shred all of the documents in these bins.